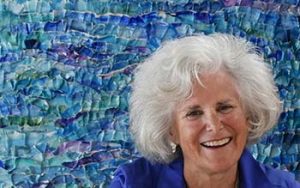 Dynamic energy and vibrant color are the consistent elements among the diverse styles of Paula Brody's artwork. Paula's deep connection to nature's beauty is the inspiration for her joyous florals and multi-textured abstracts. Her mixed media collages combine acrylics, watercolor, inks, oil pastels, fibers, fabric and found objects. Paula's unique three-dimensional paper sculptures have won numerous awards in juried shows.
Paula loves creating one-of-a-kind original art that can speak to both the owner and artist's personality. Paula enjoys the challenge of creating commissioned original art as a complement to the colors, patterns and textures in interior design. Paula offers complimentary home consultations, not only to measure for size, but also to experience the mood of a living/work environment and to understand the owner/designer's vision for the artwork commission. Paula wants the owner of commissioned artwork to cherish the painting for a lifetime.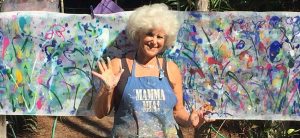 Paula believes that everyone has artistic talents just waiting for expression. Her painting workshops emphasize the joyous process of color mixing and letting beautiful paintings simply emerge from immersion in the process without a focus on the outcome. One day workshops, ideal for emerging artists, are held at Inspirations Artists & Design Gallery in the Naples Art District. Email Paula at Paulabrody@me.com to register for Paula's classes.
Paula loves to greet visitors at her working artist studio at Inspirations Artists & Design Gallery (5450B Shirley Street). Paula shows her artwork along with other artists at this beautiful gallery in the Naples Art District. Please call 239-272-7110 to confirm a time to find Paula creating original art in her studio.
Paula is the current President of the Naples Art District, inc. a vibrant non-profit 501c-3 alliance of over 60 local artists whose working studios are tucked among interior design showrooms on Shirley Street and the surrounding area. The Naples Art District is the largest concentration of working artists in Southwest Florida and a cultural arts attraction you will want to discover and explore!